40 Cans for Lent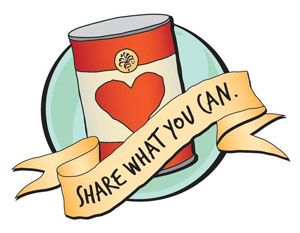 The Knight's Food for Families program, 40 Cans for Lent, provides essential foodstuffs for working poor and the homeless. It has been a huge success in past years, all because of the generosity our parishioners and visitors of St. Edmond. The campaign will benefit those in need in our community, the working poor and homeless. Beginning on Ash Wednesday, February 22 through Easter Sunday, April 09, the Knights will collect nonperishable items (and donations) at every Mass. Just one item for each day of Lent will provide an enormous benefit to help feed those families in need.
Lenten Updates
Stations of the Cross
Join us on Fridays during Lent, for Stations of the Cross starting at 4:00 p.m. in the Church followed by a Lenten Meal in the Parish Hall. **Stations of the Cross will begin at 6:00 p.m. on Good Friday, April 07.**

Lenten Meals
Fridays during Lent, at 4:45 p.m. in the Parish Hall the Knights of Columbus will provide a simple Lenten meal. This is a great opportunity to "break bread" with others who make up the community of the faithful. **There will be no Lenten Meal on Good Friday, April 07.**

Holy Week Schedule 2023
Holy Week 2023
Palm Sunday Mass Schedule
Saturday, April 01
4:00 p.m. Mass in the Church
4:00 p.m. Mass in the Hall
Sunday, April 02
7:30 a.m. Mass in the Church
9:00 a.m. Mass in the Church
10:30 Mass in the Church with Choir
4:30 p.m. Mass in the Church
Reconciliation Monday
Prepare your heart for Easter! Visit St. Edmond on Monday, April 03, from 3-8:00 p.m. to receive the Sacrament of Reconciliation. We hope to see everyone there!
Holy Thursday
Thursday, April 06
8:30 a.m. Morning Prayer in the Church

7:00 p.m. Mass of the Lord's Supper/Washing of Feet with Choir in the Church

8:00 p.m. Visits to the Repository in the Church

Good Friday
Friday, April 07
8:30 a.m. Morning Prayer in the Church

3:00 p.m. Celebration of the Lord's Passion with Choir in the Church
6:00 p.m. Stations of the Cross in the Church
Holy Saturday
Saturday, April 08
8:30 a.m. Morning Prayer in the Church
10:15 a.m. Blessing of the Food in Church
8:00 p.m. Easter Vigil with Choir in Church
Easter Sunday
Sunday, April 09
7:30 a.m. Mass in the Church & the Parish Hall
9:00 a.m. Mass in the Church, Parish Hall & Rehoboth Elementary
10:30 a.m. Mass in the Church, Parish Hall & Rehoboth Elementary
Statement on the Latin Mass being offered in Sussex County and its affiliation with the Catholic Church
In the past months, a group has begun meeting at the Hampton Inn of Rehoboth Beach and, more recently, in the hall of Saint Mark's Episcopal, Millsboro, for the celebration of Traditional Latin Mass. The priests who have been brought into the diocese to offer these Masses are a splinter group from the Society of Saint Pius X (SSPX), which itself is not in full communion with the Catholic Church.

What Pope Benedict XVI said of the SSPX is all the more applicable of the priests who have come into the diocese: "the Society has no canonical status in the Church, and its ministers do not legitimately exercise any ministry in the Church."

As such, it is morally illicit, or unlawful, for Catholics to participate in a Mass celebrated by these priests. Other sacraments, such as Penance and Matrimony, celebrated or witnessed by these priests are invalid. While it is true that participation in these Masses does not of itself constitute formal adherence to schism, such adherence can come about over a period of time as one slowly imbibes a schismatic mentality which separates itself from the teaching of the Supreme Pontiff and the entire Catholic Church. Let us hope and pray that a reconciliation of all to the Catholic Church may come about, but until such time the explanations above remain in force.

Saint Patrick Church in Wilmington is the home of the only Latin Mass in the Diocese of Wilmington celebrated by priests in communion with the Catholic Church and authorized by the diocesan Bishop. Anyone needing clarification on the status of any Mass or priest should contact the diocesan Chancery Office at 302-573-3100 or at [email protected] to verify its affiliation with the Catholic Church.
Online Mass Streaming
Click here to join us for Mass.

Collection Envelope Update:
We have contacted our church envelope company after receiving numerous phone calls from parishioners who have not yet received their February envelopes. We were informed that, unfortunately, February and March will not be sent due to a nationwide paper shortage. This has since been rectified and they will continue with April envelopes as normal. If you are an envelope user, please put your envelope number (if you don't know it, we can give it to you), your name and the amount of your donation on a plain white envelope and we will be sure to credit you for your donation.
We'd also like to take this opportunity to encourage you to consider online donations. This is the most efficient and least expensive way to make your donation to St. Edmond. It does not require anything to be mailed. It also reduces the cost of processing checks through the bank. If you'd like to consider this option and are not comfortable setting this up, the office would be happy to help you.
As always, if you should have any questions or concerns, please feel free to contact us at 302-227-4550 from 9:00 a.m.-3:00 p.m., Monday through Friday or via email at [email protected]
Are you interested in becoming a Deacon?
The Diocese of Wilmington will have a new Diaconate class start this fall. If you are interested in becoming a permanent deacon and serving the church, please contact Fr. Cocco at 302-227-4550. The Permanent Diaconate is a wonderful and very fulfilling way to serve God's Church.
Elijah Cup Ministry
A Prayer for Vocations
Gracious and loving God,
Help the men and women of our parish to hear the call to serve your Church. Our needs are great and our people thirst for your presence. Open the hearts of many, raise up faithful servants of the Gospel, dedicated holy priests, sisters brothers, and deacons, who will spend themselves for your people and their needs. Bless those who are serving now with courage and perseverance. Grant that many will be inspired by their example and faith, we ask this through Christ our Lord.
Amen.
We are in need for volunteers to be a part of this very rewarding ministry . If you would like to have the Elijah Cup in your home as a focal point to pray for vocations in the Church, please contact Kathleen Murphy (301-535-7011; [email protected]) and leave your name and contact information. You will be contacted to determine the most appropriate Mass date and time to collect the Elijah Cup to bring home.
Mass Schedule
Daily Mass: 8:30 a.m.

Saturday Evening: 4:00 p.m. (year round) & 5:30 p.m. (Memorial Day-September 24)
Sunday: 7:30 a.m., 9:00 a.m., 10:30 a.m. & 4:30 p.m.
**Additional Mass times may be added during holidays & holy days.**
Office Hours
We are open Monday-Friday from
9 a.m.-3 p.m.
Phone: 302-227-4550
FAX: 302-227-4557
Email: [email protected]
Physical address for GPS:
401 King Charles Ave. (Church)
407 King Charles Ave. (Education & Social Center/Hall)
409 King Charles Ave. (Office)
Rehoboth Beach, DE 19971
Happening around the area & at St. Edmond
Posted in Blog Entries on 03/15/23
Ladies Ancient Order of Hibernians Soup & Bake Sale! St. Edmond Parish Hall Saturday, ... Read More »
Posted in Blog Entries on 03/01/23
UNICO Celebrates Saint Joseph's Day – LA FESTA di SAN GIUSEPPE! Sunday, March 19 ... Read More »
Posted in Blog Entries on 02/28/23
A Treasured Presence: Filipino American Catholics Save the Date: May 13 9:00 a.m.-3:00 p.m. ... Read More »
Attention: Please be Aware of this Scam!
Please be wary of scams where people claim to be Fr. Cocco and ask for money or gift cards. They create emails that are similar to the 'official' St. Edmond email, and sometimes send texts as well. We NEVER use texts to request things and although we sometimes send emails to collect for various ministries, we NEVER ask for a credit card over the phone or online as we do not sell gift cards in the office. If gift cards are needed (as they sometimes are at Christmas time) we ask you bring them to us. Unfortunately, in our world today, there are people who continue to commit fraud and cheat good honest people who are trying to do the right thing. If there's ever a question, don't hesitate to call the office first before you buy. We're sorry that we can't stop people from doing this but want to make sure you're aware that it is happening again.
Text to Give
In addition to our WeShare online giving we can now offer the ability to TEXT a donation!
Simply send a text message to 302-313-2024 with the amount you would like to contribute.
Within minutes, you will be sent a text with a link to register.
Click on the link and enter your cardholder name and debit or card information.
Once your registration is complete, you will receive a text verification and a receipt of your donation via email.
For future giving, send a text with the amount you wish to give and it will process automatically! You can even text repeat to make it a recurring donation.
Give+Text is one of the fastest, easiest ways to give.
We hope you enjoy this new way to share your generosity and we thank you for supporting the church.
Welcome to Saint Edmond Parish

We are a Catholic community of approximately 3,500 people located within sight of the Atlantic Ocean in Rehoboth Beach, Delaware. Saint Edmond Parish welcomes everyone to come and strengthen their faith, to know about our parish family, experience its fellowship and join us in the celebration of the Eucharist. No matter who you are, or where you are in life's journey you are welcome here! New parishioners and visitors are always welcome!
Please explore our website, including our Events Calendar and our Facebook page. We hope you like what you see! Scroll down to the bottom of this page for our Mass schedule and office hours.
If you are not a parishioner, we invite you to join our faith community. You may complete our Parish Registration Form online or there are blank forms in the main vestibule of the Church and in the parish office.
New parishioners and visitors are always welcome!